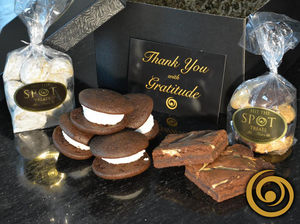 A delightful "Whoopie!" of gourmet treats!
Show some gratitude for a partnership, coworker, someone special, or yourself!
Includes: 


1 (4 pack) Whoopie Pies - Delectable chocolate cake sandwiched between sweet fluffy frosting
1 (2 pack) Cheesecake Ripple Brownies - A decadent chocolate brownie with ripples of cream-cheese
1 (4 pack) Almond dipped macaroons - Delicious Almond Macaroon cookies dipped in chocolate
1 (12 pack) Pecan butter balls - A dozen delicious crumbly pecan cookies dusted in confectioners sugar




Share the reasons you are grateful with our new gratitude activity!
Handcrafted by local artisans in Massachusetts.

Features a personalized postcard message and free shipping!

Giving back - a donation is made to charity for every box sold!