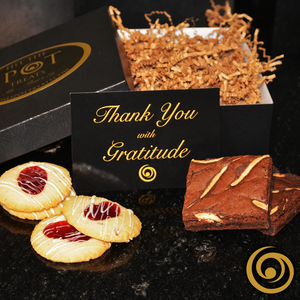 Our most valuable clients and customers are worth being recognized! Send a ripple of flavor with a cream cheese ripple brownie and a ripple of icing frosted Raspberry linzer cookies.
Includes: 
1 (2 pack) Cheesecake Ripple Brownie - A decadent chocolate brownie with ripples of cheesecake

1 (4 pack) Raspberry Linzer Cookies (4)- A soft Linzer cookie with gooey sweet raspberry jelly
Share the reasons you are grateful with our new gratitude activity!
A truly love crafted small business full of decadent gourmet treats!
Features a personalized postcard message and free shipping!
Giving back - a donation is made to charity for every box sold!