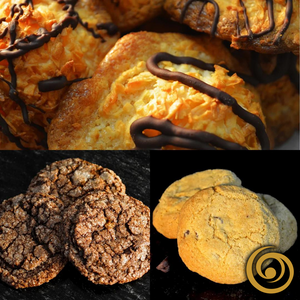 Show some gratitude for a partnership, coworker, someone special, or yourself!
Includes: (all products in this collection are gluten free)
1 (4 pack) Chocolate Drizzled Coconut Macaroons - Chewy sweet coconut macaroons soft to the touch
1 (3 pack) Chocolate Chip Cookies - You've never had a gourmet chocolate chip cookie like this
1 (3 pack) Chocolate Sugar Cookies - Chocolatey sugar cookies soft to the touch
Crafted in Massachusetts & Certified Gluten free!
A truly love crafted small business full of decadent gourmet treats!
Giving back - a donation is made to charity for every box sold!