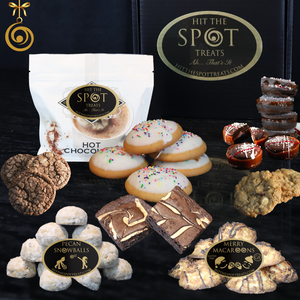 Wrap your recipient's family in the warm embrace of the season with our exclusive "Winter Warmth" Gratitude Box from Hit the Spot Treats. This holiday, as we celebrate the magic of gratitude, we invite you to share it in the most delightful way possible.
Unveiling this beautifully crafted box is like opening a treasure chest filled with an abundance of gourmet delights that capture the very essence of the holidays:
Pecan Snowballs (12): These delectable, melt-in-your-mouth pecan snowballs are a true winter delight. Crafted with love and care, each bite is like a hug for your taste buds. The sweet, nutty flavor will transport you to a winter wonderland, making them the ideal treat to savor during the holidays.  

Cream Cheese Brownies (2): A perfect blend of rich, fudgy brownie and creamy cheesecake, our cream cheese brownies are a decadent delight. Each bite is an indulgent journey, sure to bring ripples of joy this season!
Merry Macaroons (8):  With our Merry Macaroons each bite is a journey into bliss, where the chewy texture unfolds to reveal the magic within. Each chocolate drizzled coconut treat is a tiny package of joy, a delicious reminder of the festive season—plus, they're gluten-free, making them the perfect indulgence for everyone to enjoy! (GF)
Chocolate Sugar Cookies (3): Indulge in the perfect blend of artistry and flavor with our chocolate sugar cookies. Crafted to perfection, these gluten-free delights promise a decadent taste that will leave your taste buds dancing with delight. Each bite is a celebration of rich chocolate goodness, making them an irresistible treat for every holiday table. 
Oatmeal Craisin White Chocolate Cookies (3): These cookies are the embodiment of comfort, with the heartiness of oatmeal, the sweetness of white chocolate, and the tartness of craisins. A perfect treat to enjoy with a decadent cup of cozy hot cocoa. 
Italian Anise Cookies (5): 

Indulge in the exquisite charm of our Italian Anise Cookies, each cookie is a small masterpiece, lovingly baked to perfection. The subtle licorice-like flavor of anise infuses these delicate creations, providing a unique and comforting experience. 

Hot Chocolate: Our gourmet hot chocolate mix is a decadent blend of the finest cocoa and smooth dark chocolate, designed to warm both the body and the soul. Containing 55% dark chocolate, our hot chocolate is the perfect balance of intense and sweet flavors. Sip it by the fire, under a comfy blanket, or while watching the snowfall, and let it warm you from the inside out for a perfect cup of cozy.
Peppermint Terrapins (9): Our Peppermint Terrapins burst with vibrant, holiday-inspired flavors. The perfect blend of rich and bold chocolate, smooth caramel, and frosty peppermint, our terrapins are truly the quintessential treat for the winter season. 
The "Winter Warmth" Gratitude Box is more than just a gift; it's a heartfelt gesture, an expression of your gratitude, and a celebration of the holiday spirit. Whether you're sharing it with a personal connection or an important business relationship, this box represents warmth, sweetness, and the true essence of the season. 
As you spread the warmth and joy of the holidays, let the "Winter Warmth" Gratitude Box from Hit the Spot Treats be your token of gratitude. Order your gifts today and help us make the world a cozier, brighter, and more grateful place this holiday season.
Make the biggest impact with your holiday gifts by gifting early with this exclusive holiday offer. 
It's a great way to make your gift stand out as the first gift to welcome them into the holiday spirit, especially since a donation to the National Multiple Sclerosis Society is included in every Gratitude Box given!
PRE-ORDER ONLY
"Winter Warmth" is an exclusive collection that is pre-order only, has a limited quantity available and will be shipped in early December. Order while supplies last!